Flexible:
ability to subcontract
Schedule, estimate and
collect payments with
Field Complete!
We want to change the way you run your business and make it easier. Our system is simple and easy to use by even the most inexperienced user.
Get Everything You Need to Run Window Cleaning Business
Scheduling & Dispatching
Easy Estimation
Flexible Approval Process
Image Management
Job History
Abiliti to Sub-Contract Jobs
Job Management
Easy Estimation
Flexible Approval Process
Image Management
Job History
Abiliti to Sub-Contract Jobs
Estimation & Quotes
Quick Estimation
Price Book
Automated Approval
Quick Communication
In-Field Estimation
Customer Management
Customer Types
Service Locations
Contact Types
Homeowner vs Tenant
Property Managers
Invoicing
Charge On Site
Partial Invoicing
Partial Payments
Bill Later
Invoicing Automation
Payments
On-Site Payments
Credit Card Processing
E-Check Payments
ACH
Bill Later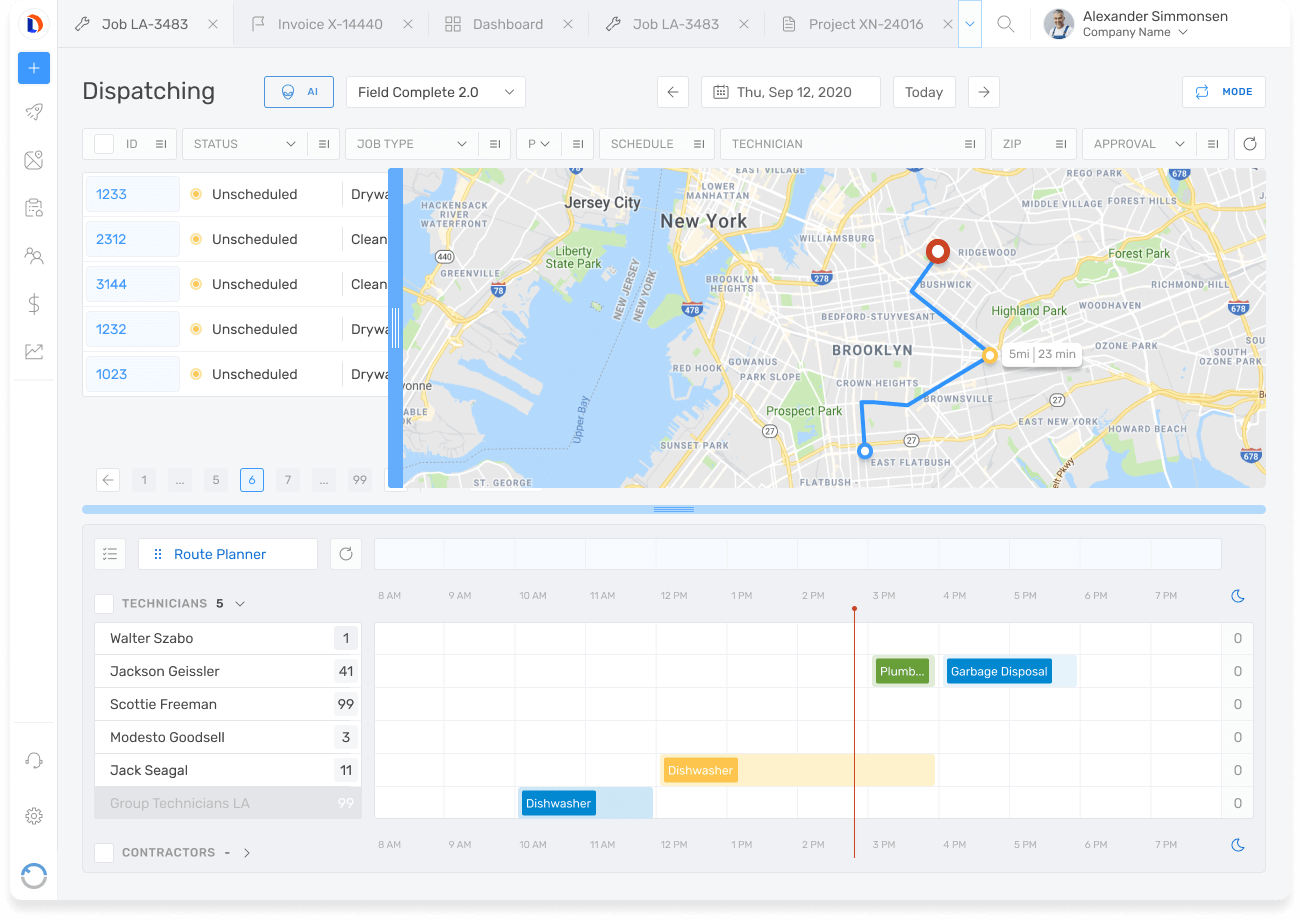 Join Hundreds of Other Contractors!
"The best design and development teams have understood the importance of creating systems that are both engaging and easy to use."
"I love the features and ease of just scheduling work to our technicians wherever and whenever without having to drive to the office to do it!"
"Use of pictures, chats, and information in the work orders is easy to find with the job ID or the work order number."
"Field Complete is simple to use, user-friendly and has reasonable pricing. I have been able to effectively run my appliance care business with this software tool!"
FAQ
What is window cleaning scheduling software?
Window cleaning software provides business owners with tools to keep their business organized and cut time away from basic tasks to grow their business! The software helps manage their customer data, day-to-day schedule for their crew, invoices and collect payment out in the field.
Does Field Complete have a window cleaning business app?
Field Complete does provide a window cleaning business app for you, your crew, and your customers! The app makes it easy to manage schedules, track invoices, payments, and run your entire business from a phone or tablet.
Does Field Complete offer free window cleaning scheduling software?
Field complete window cleaning scheduling software as a free tool for small businesses across the United States. We give you a full version of our software for your charge if you are a small business operating in the United States.
What window cleaning software features are included in Field Complete?
Field Complete Window Cleaning Software includes estimation, service request, scheduling, dispatching, advanced scope approvals, automated invoicing, payment collection, customer CRM, mobile app for your field workers, advanced charting and reporting, and full access to your data with open API.
What support is included in my Field Complete subscription?
Field complete subscription includes unlimited support via phone, email, or chat. You can access our team 24/7 and book additional training sessions with your office workers or field technicians. We are here for you every step of the way.
Trusted by Industry Leaders
Book your personalized demo to learn more
Window Cleaning Business Software
With unpredictable weather comes unpredictable work orders for window cleaning businesses. To manage the accumulated piles of work orders, Field Complete provides easy-to-use scheduling features. You can assign work orders by dragging and dropping them to the calendar or under a technician, then sorted and scheduled by time, date, technician, location, and more. The time has come to upgrade your business with window cleaning software. If you're looking to clean up double data entries and any other mistakes dirtying up your bottom line, you need Field Complete. This window cleaning service software will guarantee you'll enjoy running your business again. Without software, Customers can find the whole process overwhelming and time-consuming, communicating, making payments, and so forth. Field Complete helps you to connect with your customers easily and naturally through text messaging, photos, videos, emojis, and more. Making the whole process seamless for customers from the work request to processing payments and every step in between, and you are always a part of the communication between the crew and the customer. Field Complete helps window washing communities provide sparkling windows in the most effortless way possible.
Advantages of Our Window Cleaning Service Software
Enhance customer experience, increase productivity, efficiency and ultimately generate more revenue! Software built to strengthen your window cleaning business, ultimately earning you more business and referrals with better customer service—not price cuts. Communicate with your clients through whatever platform is convenient for them right from the Field Complete platform. Send automated notifications to keep them updated and valued at all times to keep the referrals coming! We guarantee you'll save time and hassle, and it's all free for small businesses. Software that works for you.
Benefits of the Window Cleaning Business App
The key to providing superior customer service is providing your crew with all customer information at their fingertips whenever they need it, such as key metrics that are easy to understand and accessible. The customer and crew app makes it easy to manage schedules, track invoices, payments, and so much more! With Field Complete mobile app, you can run your entire business from a phone or tablet. Clients can request work, approve schedules and stay up to date on the progress of projects. Crew can access all clients' information, get notified of any schedule changes or updates, and communicate efficiently with the office and customers! No more paper. No more mess. More time and you can finally take your window washing business to the next level. Field Complete software is the most efficient and straightforward way to run and grow your business, allowing you to manage your inquiries, quotes, bookings, invoices, payments, as well as your customers and staff all together in one platform. We've got you covered.
What is Software for Window Cleaning Business?
Business owners use window cleaning software to organize and manage daily operations such as managing clients, quoting, scheduling, dispatching, time tracking, invoicing, and payments, all in one easy-to-use platform. Using software makes the business run more efficiently and improves customer service, winning more jobs in the process. Window cleaning software provides business owners with tools to stay organized, save time and grow their business. The software helps manage their customer data, day-to-day schedule for their crew, manage invoices and collect payment from the office or out in the field. Stay in touch with your customers and crew with in-app text messaging and real-time notifications. Managing multiple staff calendars and scheduling efficiently, resolving any scheduling conflicts with a drag-and-drop dispatch calendar. Field Complete allows you to manage your schedules for success, change and adjust schedules according to convenience, and make them visible to the entire team for awareness. Scheduling can also help avoid confusion, overbooking, or double booking while out in the field.
How can Field Complete help you with the window cleaning service software?
Don't let your workers get away with wasting time around on the job. With Field Complete, you'll be able to keep precise tabs on their progress and even check in on their physical location. As a Window Cleaning business owner, you need to know that your crews are getting their work done efficiently. Window cleaning software helps you organize and empower your workforce with transparent business processes and consistency that your whole team will follow! Peace of mind.
Organize
Schedule jobs, leave notes, create invoices, process payments, and manage your crews and their routes.
Communicate
Field Complete reduces phone calls and equips your team with the information they need to show up and do the job right.
Easily scheduling
Simple drag and drop scheduling. Allow customers to request appointments and submit change requests. Avoid communication errors, as automated notifications will keep your customers and crew in the loop.