Flexible:
ability to subcontract
Schedule, estimate and
collect payments with
Field Complete!
We want to change the way you run your business and make it easier. Our system is simple and easy to use by even the most inexperienced user.
Get Everything You Need to Run Your HVAC Business
Scheduling & Dispatching
Easy Estimation
Flexible Approval Process
Image Management
Job History
Abiliti to Sub-Contract Jobs
Job Management
Easy Estimation
Flexible Approval Process
Image Management
Job History
Abiliti to Sub-Contract Jobs
Estimation & Quotes
Quick Estimation
Price Book
Automated Approval
Quick Communication
In-Field Estimation
Customer Management
Customer Types
Service Locations
Contact Types
Homeowner vs Tenant
Property Managers
Invoicing
Charge On Site
Partial Invoicing
Partial Payments
Bill Later
Invoicing Automation
Payments
On-Site Payments
Credit Card Processing
E-Check Payments
ACH
Bill Later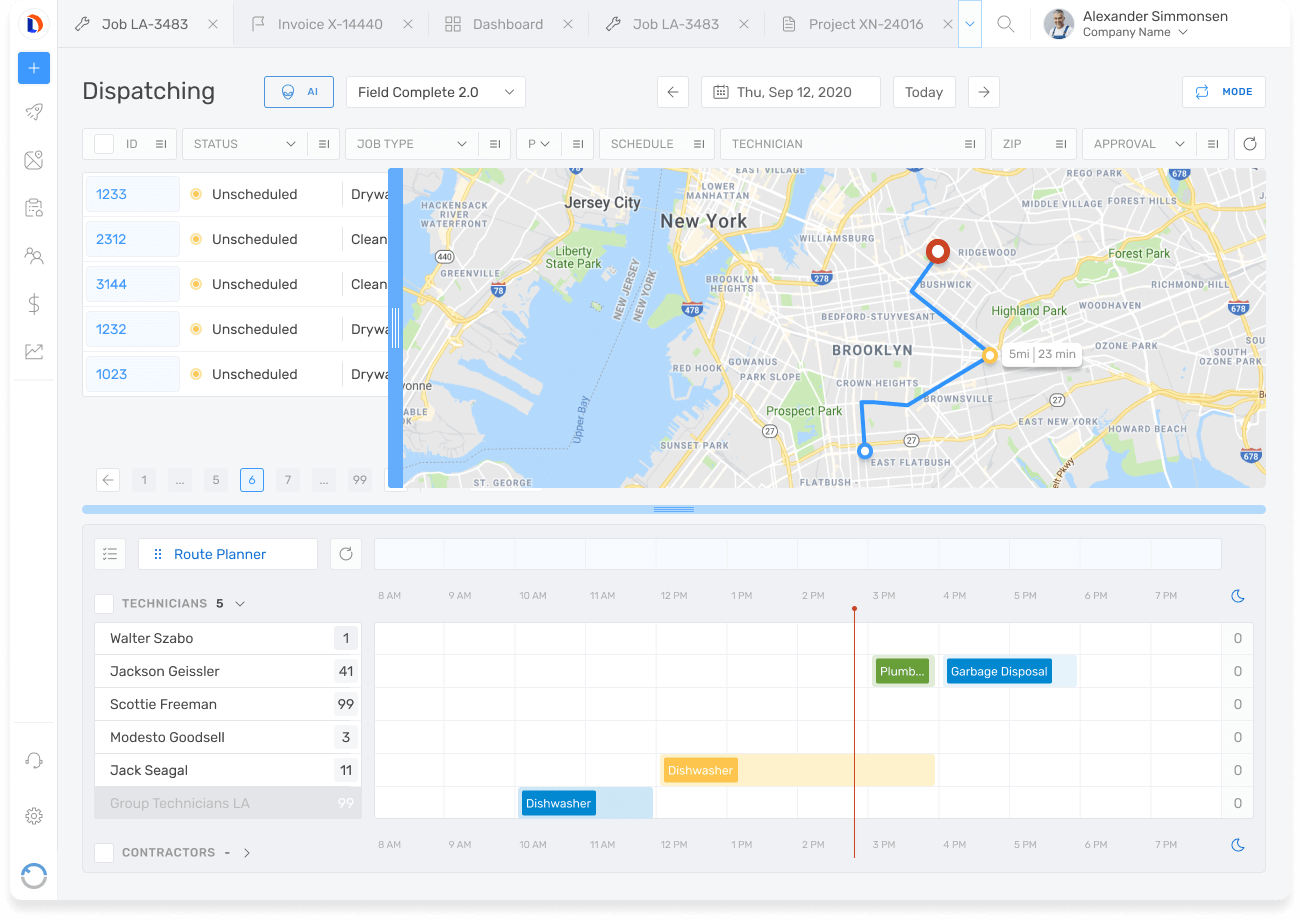 Join Hundreds of Other Contractors!
"The best design and development teams have understood the importance of creating systems that are both engaging and easy to use."
"I love the features and ease of just scheduling work to our technicians wherever and whenever without having to drive to the office to do it!"
"Use of pictures, chats, and information in the work orders is easy to find with the job ID or the work order number."
"Field Complete is simple to use, user-friendly and has reasonable pricing. I have been able to effectively run my appliance care business with this software tool!"
FAQ
What do I need to access Field Complete?
Field Complete operates in the cloud, so you can access your data from any computer with a browser. It's that easy!
Does Field Complete support access from mobile devices?
The Field Complete app is designed to work on mobile, desktop, laptop, and tablet devices.
Does Field Complete provide free access to the software?
Yes! Field Complete's HVAC app gives you access for free. You would need to pay only if your team size goes over 10 people.
How can software grow an HVAC business?
As mentioned above, HVAC field service software can save time by improving various aspects of the business operations such as productivity as well as reducing costs. Your business can then focus on expansion and building customer rapport. Using Field complete HVAC accounting software will help your business grow through the following benefits: QuickBooks integration, job management system, increase productivity with Field Complete reporting and many more features.
Does your HVAC software integrate with Quickbooks?
Field Complete accounting software for HVAC contractors is integrated with Quickbooks Online and Quickbooks Desktop for all your accounting needs.
What features are included in my Field Complete subscription?
A subscription of dispatch software HVAC by Field Complete activates a merchant account with integrated payment options and real-time updates. Through this account, you can schedule work, create and send invoices, calculate estimates, and sync instantaneous data.
Is Field Complete right for my business?
The home servicing portfolio is valued in excess of $700 billion while in recent years, studies have identified CRM applications to be the fastest-growing programs in the software and app market. A CRM system is good for your business because it enables employees to be productive even when away from the office. This is a sure way to increase revenue at no additional cost. 
With innovative tools on multiple platforms such as Windows and Android, Field complete HVAC CRM software provides the latest technology and a chance to claim your stake in the huge home services industry
Trusted by Industry Leaders
Your all-in-one solution
for field service
HVAC contractor management software
As an HVAC professional, you're always busy: juggling multiple projects and crews, trying to keep your business organized and your customers happy. It's important to find a way to manage your communication and synchronize the workflow between the office and the field. But staying on top of everything can be a struggle - that is, if you don't have the right hvac business management software.
Field Complete HVAC business software is a comprehensive HVAC CRM that helps businesses track and schedule work orders, calculate cost estimates, create invoices, browse inventory, track locations by GPS, and more. Our HVAC contractor software is a web-based application and it works on any PCs and any mobile devices - Android & iPhone.
What is HVAC Software?
This is an integrated HVAC CRM software solution that takes care of the daily operations of HVAC enterprises.
Because HVAC technicians need constant support, Commercial HVAC software especially comes to life in the field. You can easily pull up any data your technicians need to quickly dispel downtimes. Our HVAC service software also has a client application that service personnel can use to accomplish various tasks such as accessing customer details or taking important photos, without the need of going through HQ.
HVAC Software that does the heavy lifting
HVAC business software automates most of your company's repetitive tasks and provides instantaneous data and correspondence between your desk clerks and field personnel. With the most tedious tasks taken care of, you can concentrate on the actual piping.
Best-In-Class HVAC Software
Without the right HVAC company software, you will always be dealing with a lot of organizational clutter leaving you exhausted and grappling with the loss of focus. You, therefore, risk having your business fall by the wayside as more tech-savvy competitors take over. But not with our robust HVAC management software. 
Our app has received excellent feedback for its performance in the field, and we have additional HVAC software solutions for our enterprise customers.
If you are a charitable or aid organization, you can access all of our commercial HVAC software tools for free. That's right, no single dime for all NPOs.
Contact us, and we'll have our staff help you choose the best features to include in your copy of this HVAC contractor software.
Billing & invoicing

Contract Management

Estimates & Proposal

Dispatch Management

Business Rules Engine
What are the benefits of HVAC Software?
The obvious benefits of HVAC office software include enhanced proficiency and communication, but there are more. Especially when you consider the various perks offered by HVAC software for small businesses.
The biggest advantage is that HVAC CRM software is now offered on the SaaS platform which puts small businesses on the same pedestal with their larger competitors that boast of more revenue. The SaaS model favors MSMEs because, through subscription, they can instantly access fully-fledged software solutions that would have been beyond their reach when using conventional purchasing options.