Flexible:
ability to subcontract
Schedule, estimate and
collect payments with
Field Complete!
We want to change the way you run your business and make it easier. Our system is simple and easy to use by even the most inexperienced user.
Get Everything You Need to Run Your Remodeling Business
Scheduling & Dispatching
Easy Estimation
Flexible Approval Process
Image Management
Job History
Abiliti to Sub-Contract Jobs
Job Management
Easy Estimation
Flexible Approval Process
Image Management
Job History
Abiliti to Sub-Contract Jobs
Estimation & Quotes
Quick Estimation
Price Book
Automated Approval
Quick Communication
In-Field Estimation
Customer Management
Customer Types
Service Locations
Contact Types
Homeowner vs Tenant
Property Managers
Invoicing
Charge On Site
Partial Invoicing
Partial Payments
Bill Later
Invoicing Automation
Payments
On-Site Payments
Credit Card Processing
E-Check Payments
ACH
Bill Later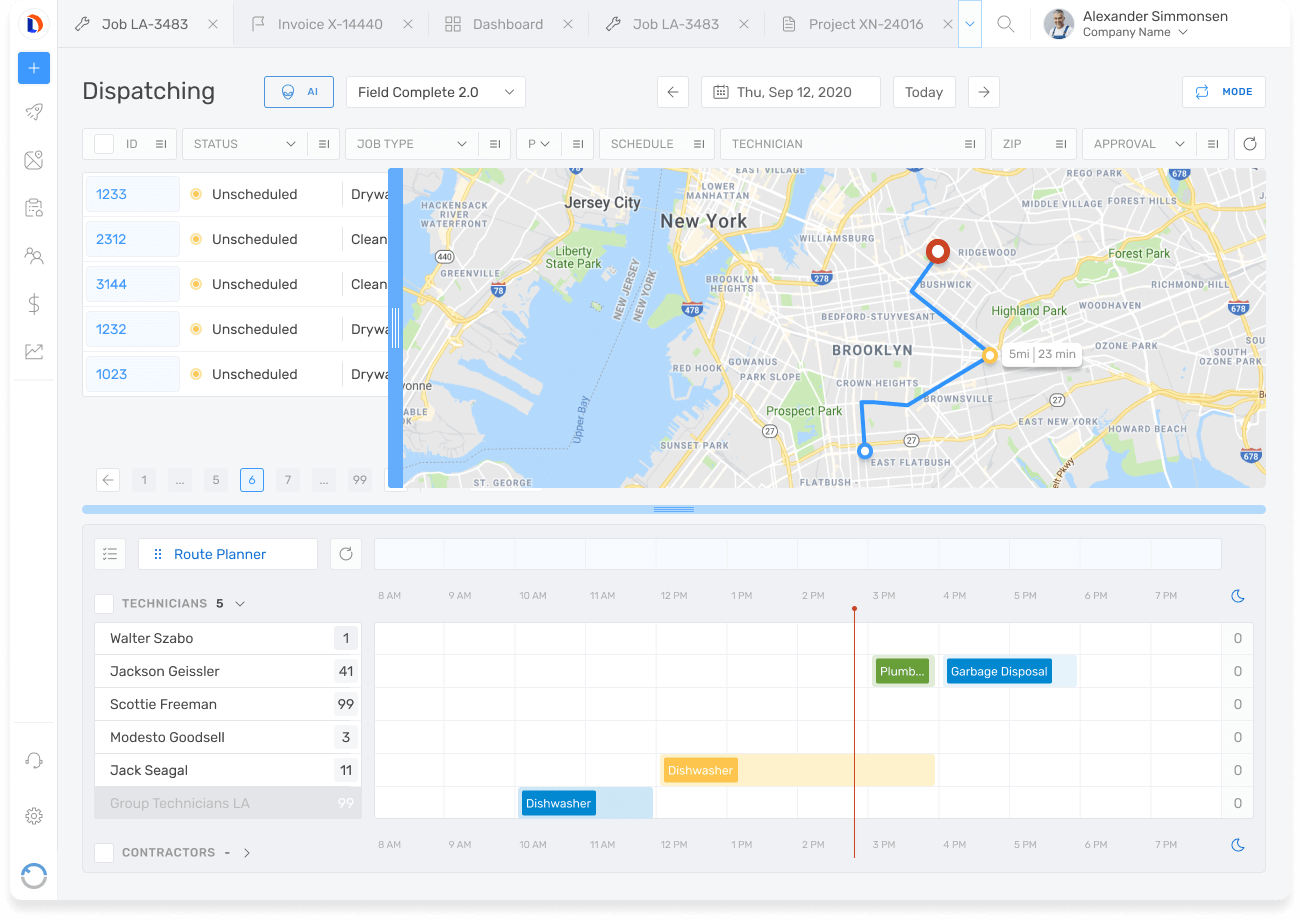 Join Hundreds of Other Contractors!
"The best design and development teams have understood the importance of creating systems that are both engaging and easy to use."
"I love the features and ease of just scheduling work to our technicians wherever and whenever without having to drive to the office to do it!"
"Use of pictures, chats, and information in the work orders is easy to find with the job ID or the work order number."
"Field Complete is simple to use, user-friendly and has reasonable pricing. I have been able to effectively run my appliance care business with this software tool!"
FAQ
What is remodeling business software?
Field Complete remodeling software allows you to manage estimates, schedules and invoices all in one place, anywhere, and anytime!
Does Field Complete have a remodeling business app?
Field Complete business software has a web app which users may access from their computer or tablets as well as iOS and Android mobile apps for your contractors and subcontractors.
Does Field Complete offer remodeling invoicing software?
Field Complete remodeling business software is the only tool you need, it includes invoicing and syncs with Quickbooks.
What remodeling business software features are included in Field Complete?
Field Complete includes estimation, bids, scheduling, scope management, in field tracking, change orders, invoicing, payments as well as reporting and dashboards all in one place.
Does Field Complete work with my remodeling invoicing software?
Field Complete is an all in one solution which will enable you to run your whole business out of, in the case you do need some 3rd party integrations Field Complete supports open API and can integrate with any software which is open to integration.
What support is included in my Field Complete subscription?
Field Complete software includes 24/7 support via phone, email, and messenger, which is free to you as a user and to your customers.
Trusted by Industry Leaders
Book your personalized demo to learn more
Remodeling Contractor Management Software
Home remodeling project management software helps manage ongoing remodeling projects. They're used by individual contractors as well as large companies with employees and subcontractors all benefiting from the software because it prevents overruns and increases profits. As well as helping with efficiencies by handling tasks such as running reports, automating estimates, and storing documents. Overall it's a valuable way to save money and stay on track with projects.
Remodeling Contractor Software
Feld Complete remodeling management software allows you to manage subcontractors right from our app. By splitting your remodel into a project and then into jobs makes managing and tracking so much easier! Respond quickly to bid and quote requests and send professional looking quotes from the office or in the field. Jobs can be assigned to contracts with attached line items of job costs, tieing into the project budget. All statuses are automatically updated as they make progress in the field. You'll be notified every step of the way as they check-in and check-out as well as, before and after photos of all the work being done in the field. Feld Complete is the best software for remodeling contractors, keeping you in the loop on every detail at all times.
Remodeling Business Software
Are you tired of guessing how well your business is doing? With Field Complete's user-friendly dashboard and reporting, you'll know which projects are doing well and which need attention—making it possible for you to intervene before things get out of hand. Essentially, as a business owner, you are better informed on your exact profit margin for each job and project. Even when things take a change unexpectedly, as they tend to do, with emergencies, mishaps, and so forth, Field Complete tracks the changes to job details as they happen, so your team has everything they need to get the job done well and on time.
What is Remodeling Contractor Software
Remodeling contractor software is a tool that helps you manage your projects, organize your crew, and find new customers. Doing all of this on your own can get overwhelming fast, and it takes valuable time out of your day. At Field Complete we're all about efficiency and simplicity, we make sure you and your employees are on track and connected for quick and smooth job turns. The software helps you keep track of the overall project costs, profit margins, subcontractors and payouts so your business runs smoothly while you focus on the real work. All the while giving you full transparency of your jobsite while you are away.
How Can Field Complete Help You With Remodeling Contractor Software?
Field Complete is a complete solution helping remodeling contractors handle contracts, estimates, service tickets, time tracking, scheduling, invoicing, and billing. Remodeling software is perfect for you whether you take on quick flips, an owner of a large renovations company, or pretty much anyone who wants to save time and remodel homes quickly and easily. Field Complete will help you stay organized and manage every aspect of a remodel. Say goodbye to miscommunications with contractors, mishaps with payments, and runovers!
Project management

Powerful reporting

Expense management

Powerful integrations

Simple job and crew scheduling

Personalized bids and invoices templates

In-app and phone support