Flexible:
ability to subcontract
Schedule, estimate and
collect payments with
Field Complete!
We want to change the way you run your business and make it easier. Our system is simple and easy to use by even the most inexperienced user.
Get Everything You Need to Run Your Cleaning Business
Scheduling & Dispatching
Easy Estimation
Flexible Approval Process
Image Management
Job History
Abiliti to Sub-Contract Jobs
Job Management
Easy Estimation
Flexible Approval Process
Image Management
Job History
Abiliti to Sub-Contract Jobs
Estimation & Quotes
Quick Estimation
Price Book
Automated Approval
Quick Communication
In-Field Estimation
Customer Management
Customer Types
Service Locations
Contact Types
Homeowner vs Tenant
Property Managers
Invoicing
Charge On Site
Partial Invoicing
Partial Payments
Bill Later
Invoicing Automation
Payments
On-Site Payments
Credit Card Processing
E-Check Payments
ACH
Bill Later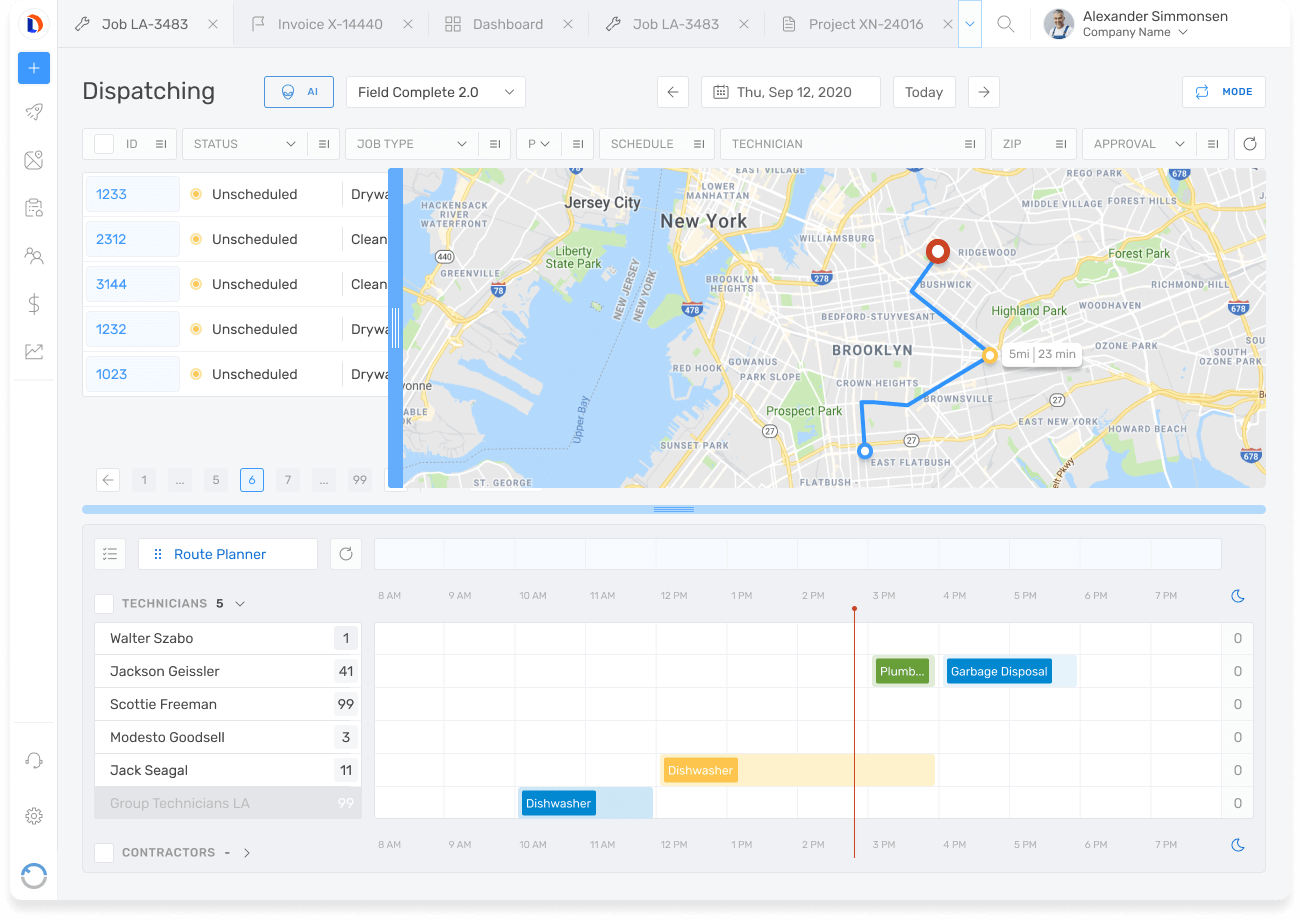 Join Hundreds of Other Contractors!
"The best design and development teams have understood the importance of creating systems that are both engaging and easy to use."
"I love the features and ease of just scheduling work to our technicians wherever and whenever without having to drive to the office to do it!"
"Use of pictures, chats, and information in the work orders is easy to find with the job ID or the work order number."
"Field Complete is simple to use, user-friendly and has reasonable pricing. I have been able to effectively run my appliance care business with this software tool!"
FAQ
What is cleaning software?
Our cleaning business software improves organization, scheduling, coordination, reporting, payment, and booking from a central area.
Does Field Complete have a cleanin app?
Yes! Field Complete's cleaning app gives you the tools you need to organize your team and grow your business. Feel free to download our mobile app from Google Play Market and Apple App Store.
Does Field Complete connect with my accounting software?
Field Complete syncs with QuickBooks Online making your accounting more manageable than ever!
Does Field Complete provide free access to the software?
Yes! Field Complete's cleaning app gives you access for free. You would need to pay only if your team size goes over 10 people.
Does Field Complete offer cleaning invoice software?
Field Complete automates your invoicing process, so you can invoice right on the job site. With Field Complete invoicing software, you get professional templates, invoicing tracking, and automated invoice follow-ups.
What support is included in my Field Complete subscription?
Field Complete considers customer service our top priority. We are always available for phone, email or chat support.
What features are included in my Field Complete subscription?
A subscription guarantees you access to our full portfolio of tools to schedule, assign and track tasks, generate and manage invoices, automate reoccurring tasks, generate reports, and view performance. All this is from your dashboard. Not ready for a paid subscription yet? Sign up today to sample our free house cleaning business software option.
Trusted by Industry Leaders
Your all-in-one solution
for field service
Cleaning Services Software
Cleaning Service Software is a portfolio of various tools and applications that are designed to ease the day–to–day operations for owners and managers or house-cleaning and maid service businesses. Our cleaning industry software can be accessed either through a cloud-based web service or a mobile app.
Check us out today to get unbeatable offers on the ideal all-in-one cleaning service software. We work with industry-leading partners and affiliates to bring you the best-in-class cleaning business software that will save you time and make your work a lot easier.
Simplify cleaning business today with Field Complete
Your Field Complete subscription will give you access to all the great functionality we offer. You will have visibility on what needs the most attention via the Dashboard, run reports to assess employee performance, automate away repetitive tasks, dispatch and track jobs, invoice, and collect payment all within Field Complete.
Business Rules Engine
Set access control to grant or restrict certain permissions to personnel as per certain responsibilities. In a nutshell, by using our cleaning company software, you can grant or deny access to certain organizational data in order to manage workflows, evaluate employee performance, and prevent fraudulent activity.
Billing and invoicing
With handyman invoice app, create and send invoices, process payments, and automatically send reminders for overdue bills, accessible quotes, invoices, and job history 24/7
Benefits of Cleaning Business Software
Cleaning business management software enables cleaning companies to handle all aspects of the business from a central place. From maid service software to commercial cleaning business software to residential cleaning software, all house cleaning software should enable users to simplify daily operations and concentrate more on delivering satisfactory service to clients. Partly through automation. Our cleaning business software program provides these features:
Billing & lnvoicing
Field complete cleaning service management software enables you to create and send professional-looking invoices. You can classify tasks using various options such as job ID, job type, and invoice number to simplify search attempts and facilitate a clean layout when generating reports. Sign up for a demo to try out these amazing features./p>
Job Management
Create, accept, edit, and manage work with our house cleaning business software. What's more? It's fully mobile, therefore, you can also track jobs while in the field. The upside of using our cleaning business software is that automation tools help your business save time by eliminating scheduling conflicts and improving collaboration and communication.
Estimates & Proposal
It will definitely defeat the purpose to spend hours on administrative tasks such as modifying quotes and documents instead of doing the actual work. Field complete cleaning company software has tools that will help you create accurate estimates and quantifiable proposals. We have numerous templates that you can customize to fit your brand.
Dispatch Management
Whether you need cleaning scheduling software, residential cleaning software, or maid service scheduling software to manage your service team, Field Complete's application is the perfect cleaning industry software. Our drag and drop feature allows you to accurately assign the right job to the right technician. You can easily check who's available to eliminate double-booking and quickly dispatch technicians according to priority and fit.