Flexible:
ability to subcontract
Schedule, estimate and
collect payments with
Field Complete!
We want to change the way you run your business and make it easier. Our system is simple and easy to use by even the most inexperienced user.
Get Everything You Need to Run Your Washing Business
Scheduling & Dispatching
Easy Estimation
Flexible Approval Process
Image Management
Job History
Abiliti to Sub-Contract Jobs
Job Management
Easy Estimation
Flexible Approval Process
Image Management
Job History
Abiliti to Sub-Contract Jobs
Estimation & Quotes
Quick Estimation
Price Book
Automated Approval
Quick Communication
In-Field Estimation
Customer Management
Customer Types
Service Locations
Contact Types
Homeowner vs Tenant
Property Managers
Invoicing
Charge On Site
Partial Invoicing
Partial Payments
Bill Later
Invoicing Automation
Payments
On-Site Payments
Credit Card Processing
E-Check Payments
ACH
Bill Later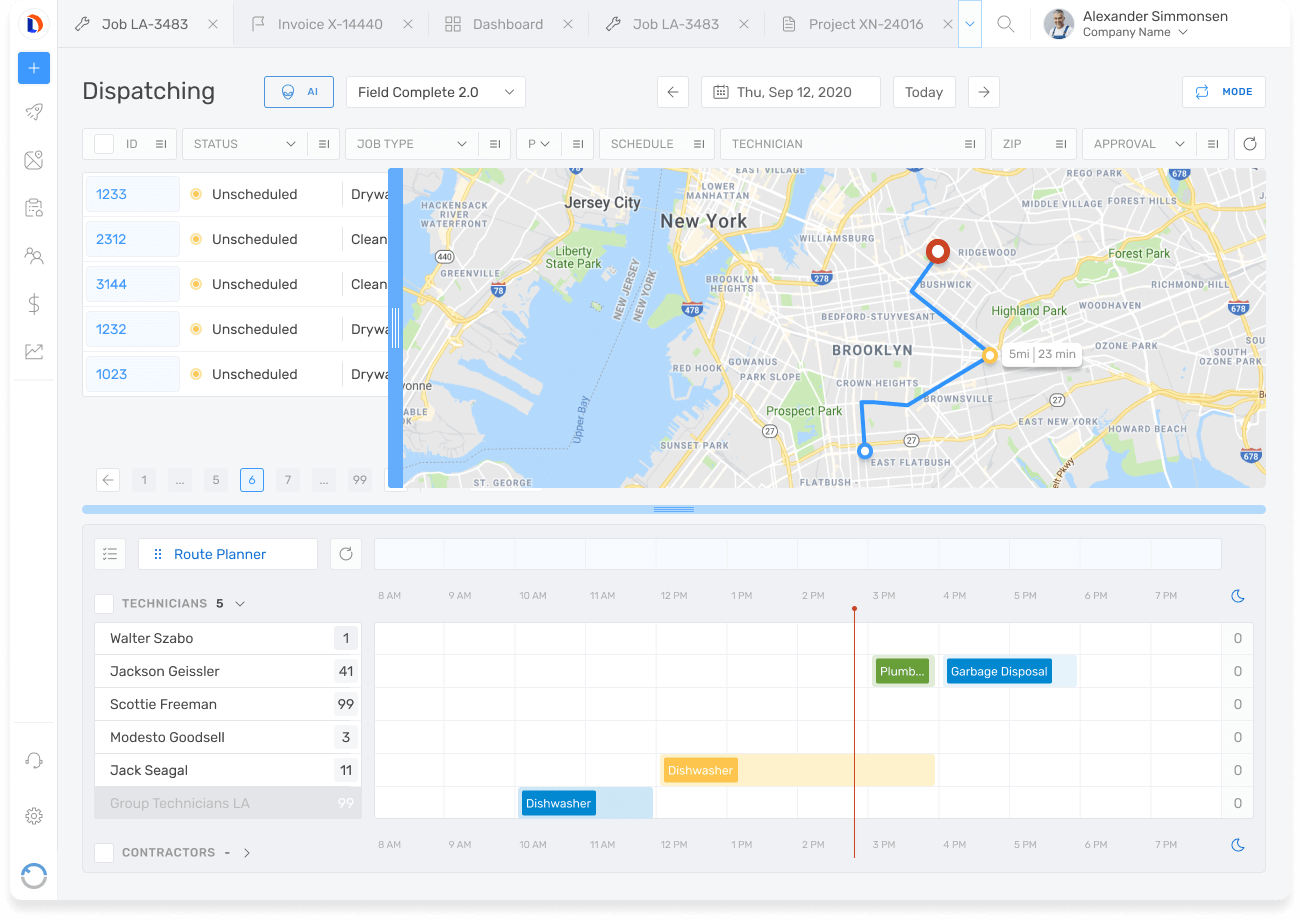 Join Hundreds of Other Contractors!
"The best design and development teams have understood the importance of creating systems that are both engaging and easy to use."
"I love the features and ease of just scheduling work to our technicians wherever and whenever without having to drive to the office to do it!"
"Use of pictures, chats, and information in the work orders is easy to find with the job ID or the work order number."
"Field Complete is simple to use, user-friendly and has reasonable pricing. I have been able to effectively run my appliance care business with this software tool!"
FAQ
What is pressure washing software?
Pressure washing software is a tool for quick estimation, communication, managing schedules, invoicing, and collecting payments, all in one platform.
Does Field Complete have a pressure washing app?
Field Complete has Android and iOS apps for your field workers, so everyone stays connected at all times.
Does Field Complete offer pressure washing invoice software?
Field Complete Invoicing is built into the software. You can convert an estimate into a job and create an invoice from that original estimate.
What are pressure washing business software features included in Field Complete?
Field Complete includes leads and customer management, estimation, scheduling, invoicing, and payments, all in our software.
Does Field Complete work with my accounting software?
Field Complete integrates with Quickbooks Online and Quickbooks Desktop, although some small companies choose not to use the accounting software.
What support is included in my field Complete subscription?
Field Complete includes phone, email, and SMS support available at all times.
Trusted by Industry Leaders
Book your personalized demo to learn more
Pressure Washing CRM
Running a pressure washing business, while a very lucrative trade, has its challenges. Between the work orders, invoices, and estimates, you have your hands full -- even literally with paperwork. There are so many moving parts that it is sometimes impossible to handle without the help of a dispatching software. Simplify and go paperless with Field Complete CRM pressure washing software. Field complete allows you to digitize your leads, schedules, invoices, and estimates, with easy-to-use digitized systems, giving you the ability to go paperless.
What is Pressure Washing CRM?
Field Complete Pressure washing CRM helps you run your business more efficiently with features such as scheduling, dispatching, reporting, invoicing, and more. Interact with leads and quickly send out estimates to your customers. Once the customer is booked, you can quickly assign the job to a technician. Once dispatched, you'll track the time and amend the original estimate in the field as needed. After which, you can collect the payment on site or bill the customer for later payment. From scheduling to billing, Field Complete's CRM for pressure washing can help your business grow more revenue and increase operational efficiency.
How can Field Complete help you with Pressure Washing Software?
Field Complete helps you keep everything in one place, allowing you to create estimates and invoices on the go. You'll never worry about paperwork again; enter the data once and quickly move from estimate to invoice to payment. At the same time, all data is securely stored and accessible at any time from anywhere.