Flexible:
ability to subcontract
Schedule, estimate and
collect payments with
Field Complete!
We want to change the way you run your business and make it easier. Our system is simple and easy to use by even the most inexperienced user.
Get Everything You Need to Run Your Paving Business
Scheduling & Dispatching
Easy Estimation
Flexible Approval Process
Image Management
Job History
Abiliti to Sub-Contract Jobs
Job Management
Easy Estimation
Flexible Approval Process
Image Management
Job History
Abiliti to Sub-Contract Jobs
Estimation & Quotes
Quick Estimation
Price Book
Automated Approval
Quick Communication
In-Field Estimation
Customer Management
Customer Types
Service Locations
Contact Types
Homeowner vs Tenant
Property Managers
Invoicing
Charge On Site
Partial Invoicing
Partial Payments
Bill Later
Invoicing Automation
Payments
On-Site Payments
Credit Card Processing
E-Check Payments
ACH
Bill Later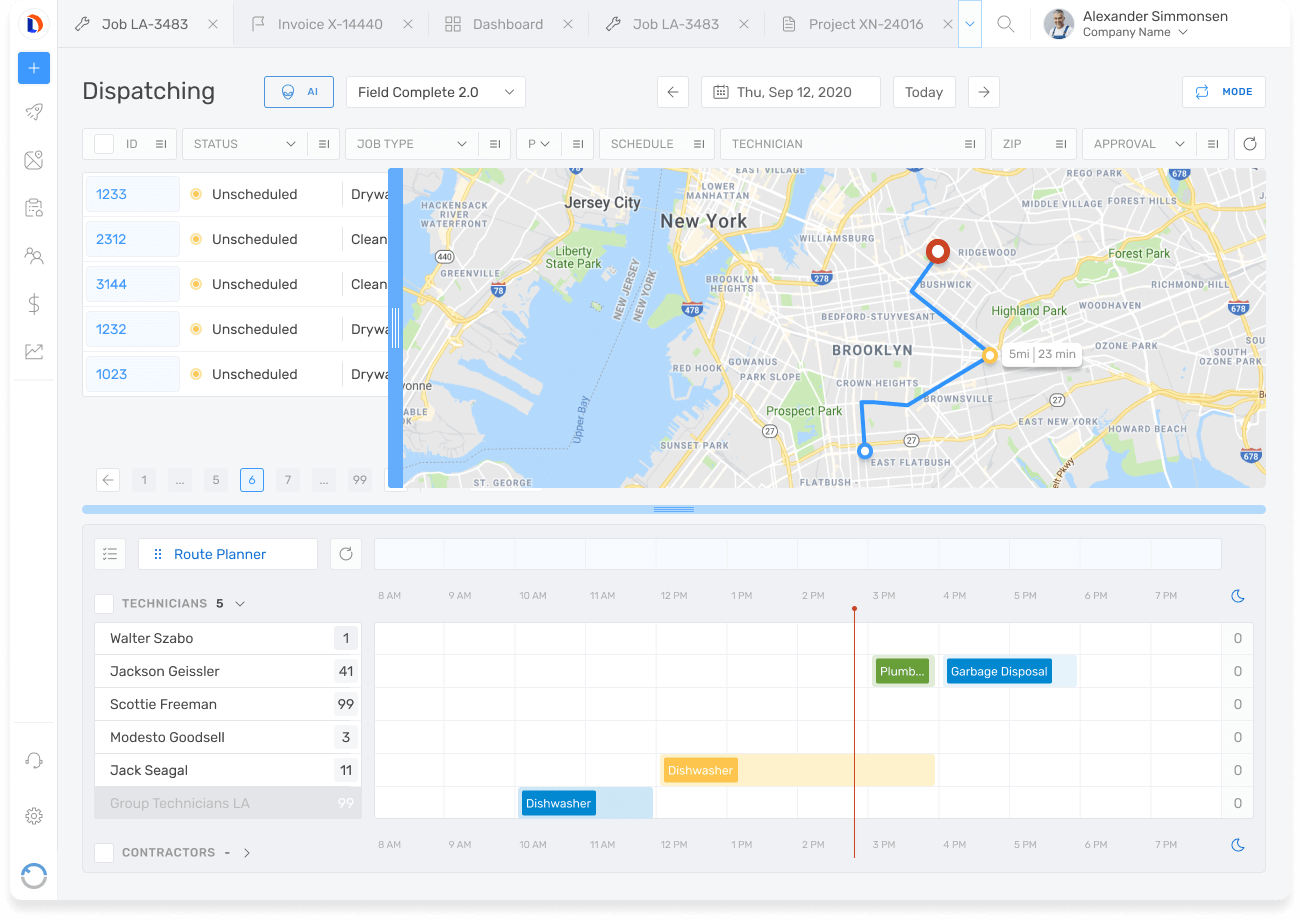 Join Hundreds of Other Contractors!
"The best design and development teams have understood the importance of creating systems that are both engaging and easy to use."
"I love the features and ease of just scheduling work to our technicians wherever and whenever without having to drive to the office to do it!"
"Use of pictures, chats, and information in the work orders is easy to find with the job ID or the work order number."
"Field Complete is simple to use, user-friendly and has reasonable pricing. I have been able to effectively run my appliance care business with this software tool!"
FAQ
What do I need to access Field Complete?
Field Complete operates in the cloud, so you can access your data from any computer with a browser. It's that easy!
How can Field Complete paving software grow my business?
In addition to saving you time, the benefits highlighted above not only improve efficiency in your workplace but also boost your revenue by helping you save more. The 'extra' time and money can be plowed back into the business.
Does Field Complete support access from mobile devices?
The Field Complete app is designed to work on mobile, desktop, laptop, and tablet devices.
Does Field Complete provide free access to the software?
Yes! Field Complete's solar energy app gives you access for free. You would need to pay only if your team size goes over 10 people.
What features are included in my Field Complete subscription?
We have a month-to-month subscription which gives you access to all our features whether at the office or in the field. These include estimation & quotes, job management, invoicing, and an embedded messenger. Field complete Green Energy business software is free to use for not-for-profit organizations and teams that do not exceed 10 members. Sign up to try out a demo and learn what additional features you can enjoy with our flexible subscription.
How Field Complete can help me with the estimating and scheduling?
Field Complete will provide limitless potential, merge the field of work with office work, set the start of the main work processes and calculate the approximate period for their completion, save time on maintaining paper timesheets, help with estimates for financial decisions, prevent double entry, etc. Also, a program that was created to solve business issues will bring other privileges - it will help increase productivity and, accordingly, income, quickly calculate errors, and demonstrate quantitative data on certain indicators that will save time, money, and nerves.
How much does asphalt paving software cost?
In fact, if you pay attention to Field Complete, you can use the free version of the program. The free version is suitable for small businesses, but for large ones it is better to purchase paid software.
Why is paving estimating software useful?
Firstly, the software saves time, helps in managing jobs, develops business, and improves security.
Does the software for paving contractors have many features?
Of course, because the software includes options from the most primitive - estimates and dispatching, to automation and increased productivity.
Is the software suitable for large companies?
It is suitable for everyone who has teams (full-fledged crew), company partners, many clients - the scope of work can be any, because custom software can handle any scale.
Trusted by Industry Leaders
Book your personalized demo to learn more
Paving Contractor Software
At the present time, it is very important to correctly plan all business processes. Therefore, it is not strange that every entrepreneur of a small, medium or large business needs job automation, which consists in installing such software as paving software, which will increase security, save working time resources, and help in development in general. With the help of a computer system, you can seamlessly streamline all activities.
Advantages of Paving software
Everyone who has asphalt paving scheduling software will be better than their competitors. The fact is that the software opens up a lot of advantages:
Reducing costs through automation. As the IT industry develops, it is not surprising that most companies are moving to specialized software. Automation allows each employee to work fewer hours, schedule work, perform tasks remotely, and track information in a single place.

Attracting clients. Since software attracts a potential target audience for the reason that it demonstrates professionalism, it is not surprising that business only grows thanks to software. In addition, it will be possible to store customer contact details, e-mail addresses, etc. in the system.

Security. Clients understand exactly that in companies that have their own software, professional activity is at a high level, because thanks to software, all business processes can be secured. Clients trust such companies that can create backup copies of documents, remind them about something important by SMS notification or phone call, etc.

Also, pavement asset management software helps in the implementation of management functions, organizing settings and convenient management of contractors and employees, monitoring the company's expenses and income, and much more.

Does Field Complete have a Paving app?

In Field Complete, you can use the appropriate application and still manage workstations, as well as all documentation belonging to customers. It will also be possible to set a schedule for teams laying concrete pavement or laying paving slabs, etc.
What is paving software?
If we talk about paving contractor software, then it is worth emphasizing that it refers to software that helps in the direction of general contracting, paving services, landscaping and demolition, allowing you to manage work moments, streamline the execution of duties, receipt of payments, planning and other aspects. Current features include:
Possibility to quote and evaluate. With the help of the software, you can quickly create cool offers for each customer, provide these offers via email, use the built-in database with a price list (checklist), where prices are indicated and quickly integrate communication and data exchange between the client and the administrator or owner, as well as between employees and management.

Simplification of business processes. It lies in the convenience of editing and writing schedules for planning tasks. In fact, the software has an automatic assignment function, text fields for entering information, and you can also track certification and more.

Complete management. We are talking about the fact that you can manage prices, electronic signatures, work tasks, invoicing, income and expenses. Additionally, you can track the equipment and its operation, as well as remotely manage concrete stocks and individual building materials.
It is asphalt paving estimating software that will help in providing an analysis of mathematical calculations about how much concrete is needed for a particular section of the road, as well as planning estimates, etc.
What features are included in my Field Complete subscription?
As for the corresponding options in the software, they are significantly expanded, which gives its privileges. Among the main functions are:
Ability to manage all clients;

Ability to evaluate and track quotes;

Possibility to use the current messenger;

It is possible to keep track of expenses and income;

You can schedule remotely;

It is possible to carry out dispatching (including online);

It is possible to establish and regulate rules;

It is also possible to apply GPS tracking, prepare reports, invoice, keep records and much more.